Women's Music - A Little Herstory
I recently dug into my archives (i.e. the boxes in my storage unit) in search of items for this Women's Music Exhibit at Stonewall Library in Fort Lauderdale: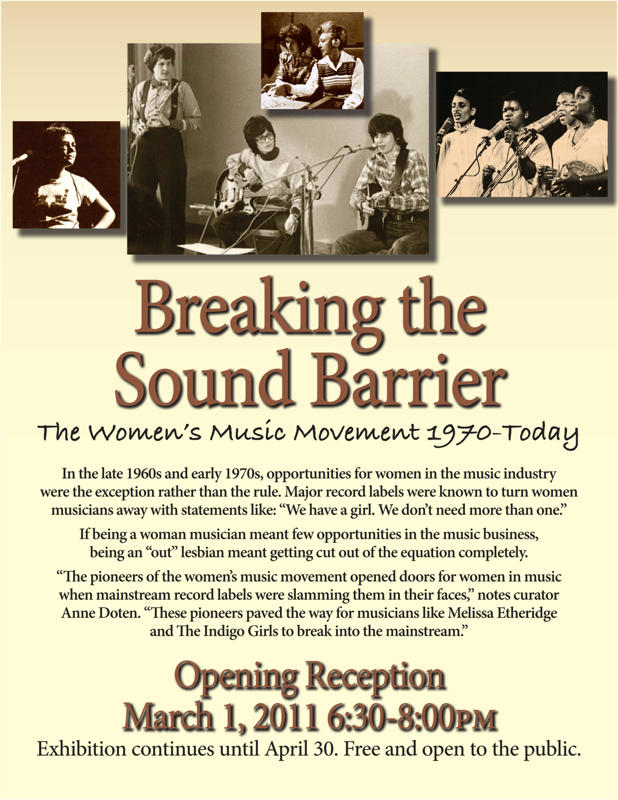 Anne Doten, Curator of this exhibit, and Chuck Ross, Stonewall Archivist, really did a wonderful job putting together this exhibit, and it was very gratifying to see a number of items from my personal collection included. It was also great looking through so many wonderful artifacts from my early professional music career! Among other things, I found the two articles below, and was inspired to write the following little essay:
Women's Music in Syracuse, NY
While it's easy to focus on the "big names" in Women's Music, much of the energy and spirit of the national Women's Music scene of the 1970's - 80's came from bands, event producers, and fans in cities large and small around the country.
One such women's music scene sprung up in Syracuse, NY in the 1970's. A number of local producers including Susie Gaynes and Kathy Collins presented national and local artists to both mixed and all-women's audiences. These productions, along with the Women's Information Center, were an integral part of an active progressive community which continues to this day, which also included the long-standing venerable Syracuse Peace Council, and birthed the widely-regarded arts collective Syracuse Cultural Workers. The local college radio station WAER (now an NPR affiliate) hosted a weekly women's music and news show produced by women from the community during this period.
Numerous local all-women and women-led bands played as part of this lively scene, including Friends, Sweet Jenny Grit, Flight of the Phoenix, No Sense of Humor, Felicidad, Laura and the Legwarmers, Cindy and the Chordettes, Eve's Faces, Forsythia, RMS and Wilansky, Marieniss, Gaynes, D'Amico, Collins and Beall. There were also acclaimed solo performances by artists who also played in some of these bands like Robyn Fear (now a south Floridian playing solo and in a variety of bands), Barbara Dunn Shaw (now living and playing in Vancouver), the late Janice D'Amico, Cynthia Cordes (of Cindy and the Chordettes, now a librarian living in Virginia), and Laura Sue Wilansky (now a south Floridian playing as Laura Sue, the Silver Nightingale and as a member of The Quiet Villagers).
Many of these bands also had the opportunity to open for some of the many national acts who played Syracuse, like Meg Christian, Cris Williamson, Holly Near, Teresa Trull, Therese Edell and Kate Clinton. Syracuse artists also played regionally at women's clubs and events in cities like Ithaca, Rochester and Buffalo, which had their own women's music scenes, and nationally at women's music festivals.
The woman musicians of this time also drew inspiration from more mainstream artists/bandleaders who were garnering wide audiences for original creative work like Heart, Marian McPartland, Bonnie Raitt, Laura Nyro, Joni Mitchell, Bonnie Bramlett (Delaney and Bonnie), Terry Garthwaite/Joy of Cooking and Sandy Denny among others.
Producer Susie Gaynes, who sang and played drums in several of the Syracuse bands, also worked in production and engineering roles for several festivals and recordings by national artists, including Kay Gardner's A Rainbow Path and Ocean Moon.
Some of the many other notable musicians who played in these bands included bassist Dr. Jane Rhodes (now Dean for the Study of Race and Ethnicity and Chair of American Studies at Macalester College); vocalist Kath Delaney (now running The Madera Group in San Francisco); vocalist Diana Trifoso (now running Diana Trifoso Designs around the globe); violinist Judy Mareiniss (now a sound engineer in New York City working with lots of famous musicians and clubs like CBGB); keyboardist, vocalist, drummer and dancer Connie Walters (still living, playing and teaching in Central New York); terrific power drummer Sharon Maguire (recently got back in touch with her on Facebook, I think she's a teacher now?); singer-songwriter-guitarist Annette deSantis (who led Eve's Faces and also played in the Legwarmers); superb guitarist Abby Shearer (haven't been able to track her down yet!); and multi-instrumentalist and composer Yolanda "Yogi" Fundora (now a noted artist and graphic designer based in New York City).
Flautist, vocalist, percussionist and composer Laura Sue Wilansky played on Maxine Feldman's seminal album Closet Sale, and Kay Gardner performed Laura Sue's original composition "Amelia". Laura Sue also performed with both of these artists at national festivals and clubs. She later moved to New Orleans where she lived and played for a year, and then moved to Fort Lauderdale where she has developed an active solo career as The Silver Nightingale, as well as playing with her Latin Jazz ensemble Orquestra Nightingale, women's drum and dance troupe Venus Rising, and many other ensembles. She has recorded with artists including Teri Catlin, Ellen Bukstel and Stephan Mikes.
A recording of her original song "Against the Law", from the Nightrainbow Sessions, made during this time period but never released at the time, is included in the Songs of War and Politics - Volume 1 compilation CD released by Folk Alliance International in February 2011. Other artists on this CD include the legendary Hazel Dickens, whose records Laura Sue used to play when she worked on the aforementioned women's music radio show in the 1970's!
Laura Sue's original "No Nukes Swing" from the Nightrainbow Sessions appears on the 2012 Syracuse Peace Council compilation CD PeaceSongsCNY, and has also been released digitally by Laura Sue. Other notable artists on this CD include Charlie King, Colleen Kattau, Sophistafunk, and Karen Savoca and Peter Heitzman. Laura Sue has been distributing "No Nukes Swing" non-commercially to nuclear-free activists for several years now. "No Nukes Swing" was also performed in 2009 by the Syracuse Community Choir.
The Nightrainbow studio recordings feature a group of excellent women musicians from the Syracuse scene, along with national artists Betsy Rose and Jean Fineberg (Laura Nyro - Season of Lights, David Bowie - Golden Years, Sister Sledge - We are Family). These sessions were engineered by noted producer and multi-instrumentalist Roma Baran (an Academy Award nominee who has produced numerous Laurie Anderson albums, as well as playing with Rosalie Sorrels and Kate McGarrigle among others) and Karen Kane (Janis Ian, Tracy Chapman, Wishing Chair and many more).
In 2012, Laura Sue returned to Syracuse and reunited with her musical colleagues Connie Walters and Diana Trifoso for a couple shows, performing under the name Silver Nightingale and the Starlings, in which they were joined by new musician friends Colleen Kattau and Jane Zell, who each shine on the Syracuse scene in their own solo and band gigs (Colleen Kattau and Some Guys, Jane Zell and the Zelltones). During this trip, Laura Sue also happened upon the terrific women's power trio Miss Three playing at the Dinosaur BBQ, among many other women musicians currently active in the Syracuse music scene. Colleen, Jane, Connie, Laura Sue and assorted other musicians have subsequently toured around Central New York playing as Dos Equis, including shows at the prestigious Finger Lakes GrassRoots Festival, Felicia's Atomic Cafe in Ithaca, and the Westcott Street Cultural Fair among others. Colleen and Laura Sue have also toured in South Florida, playing the South Florida Folk Festival, Luna Star Cafe and other cool venues.
This article on Women's Music was published in the Syracuse Peace Council newsletter in 1982: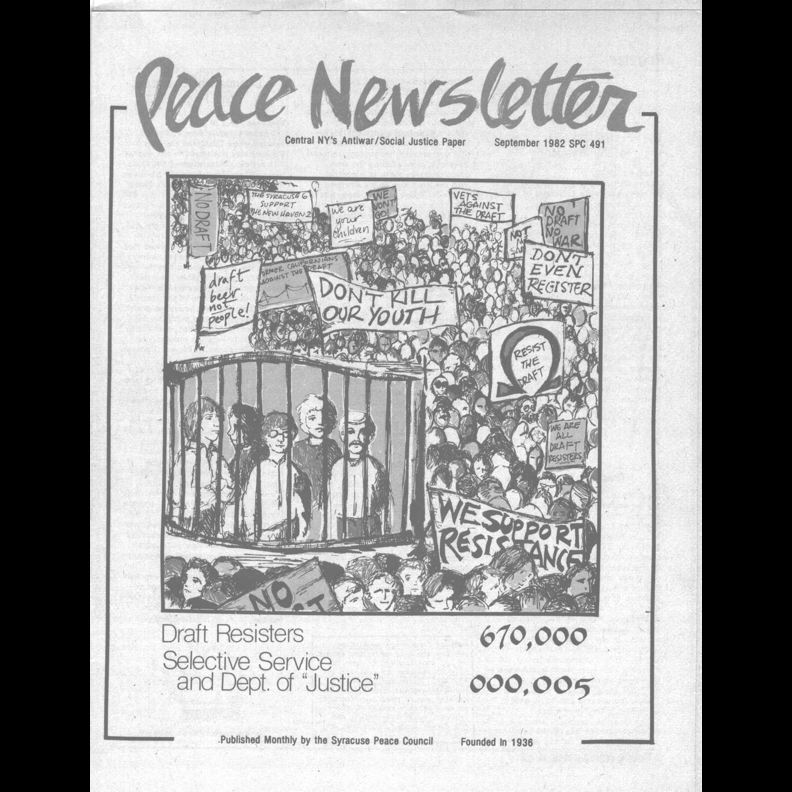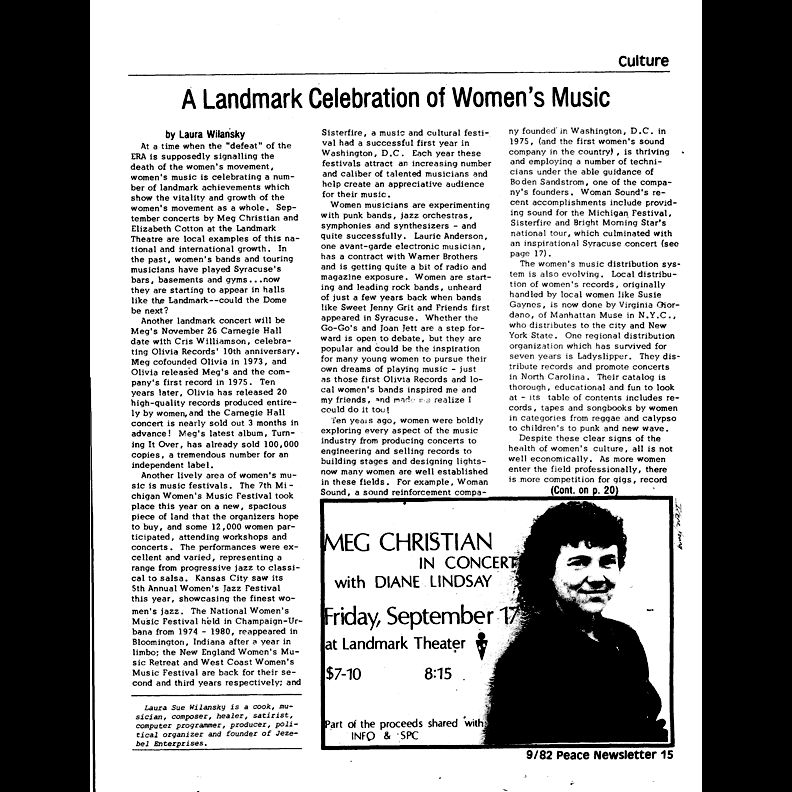 This article was published in the Syracuse New Times in 1980. Thanks to my old bandmate, violinist and soundwoman Judy Mareiniss for scanning and sending it to me!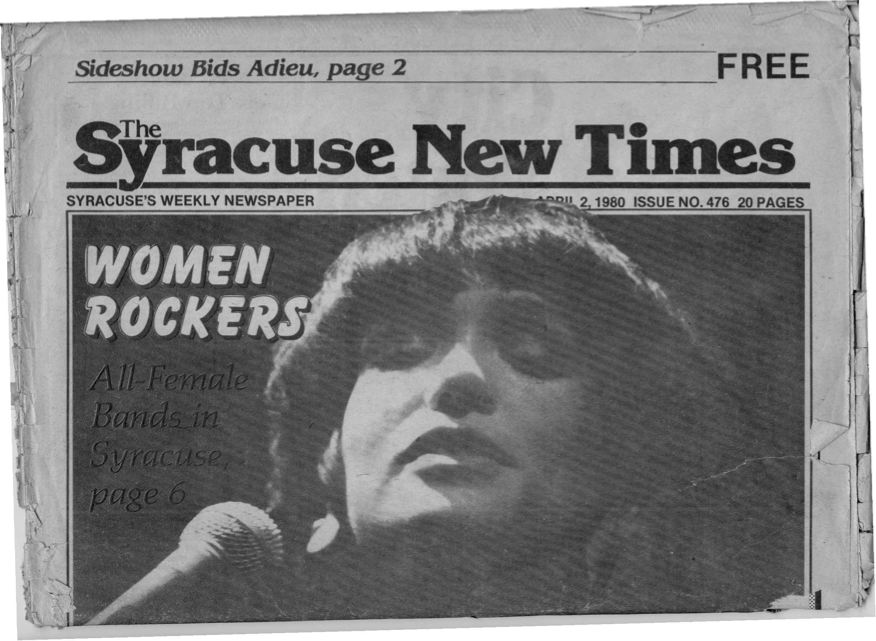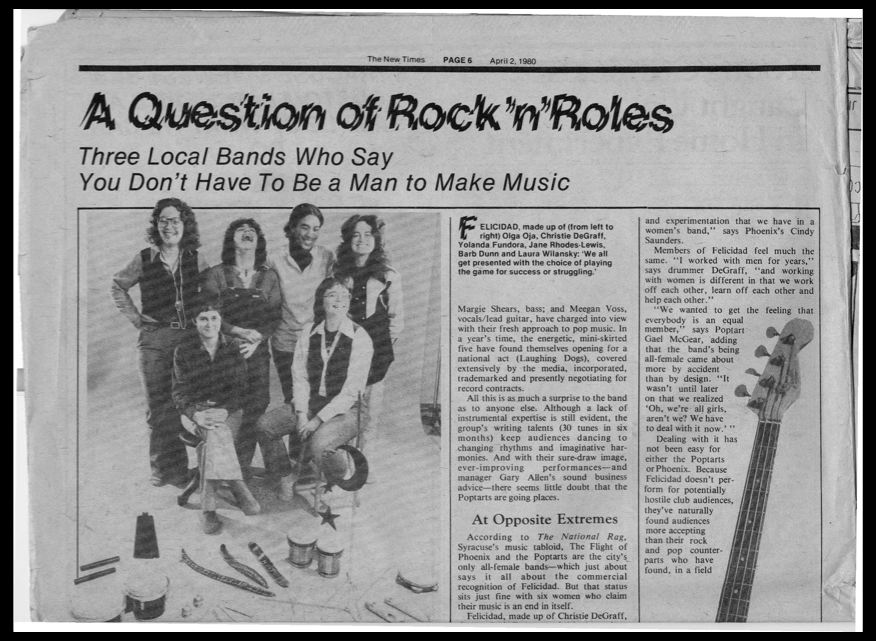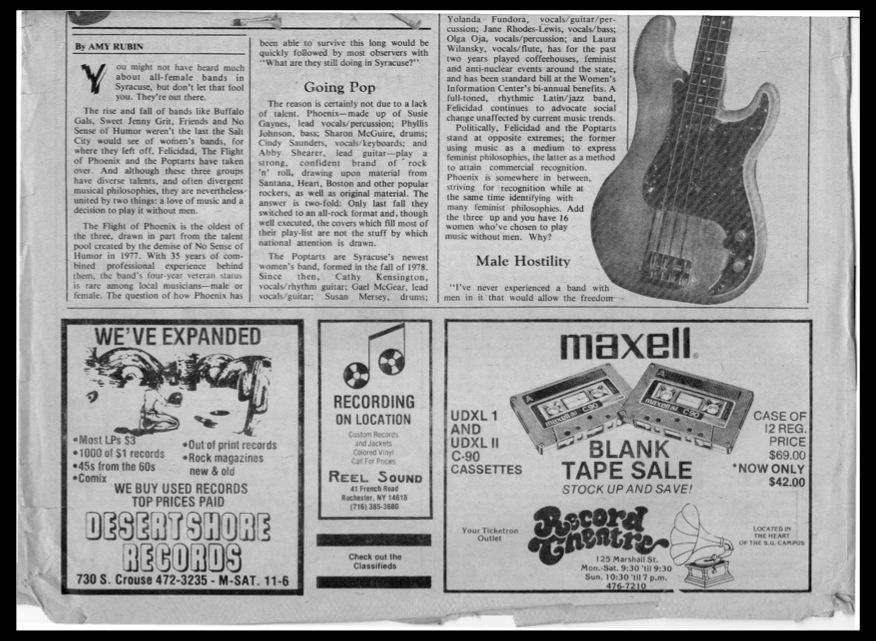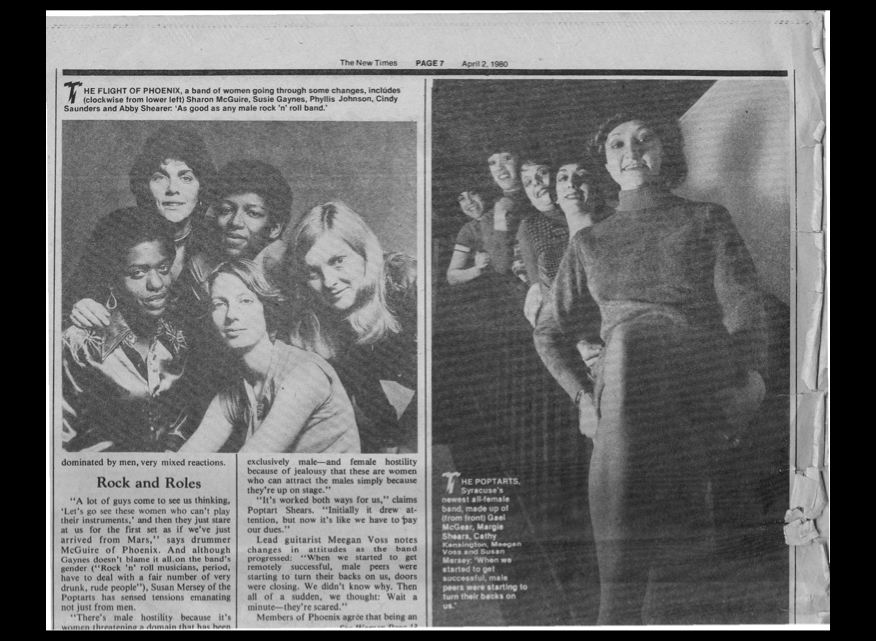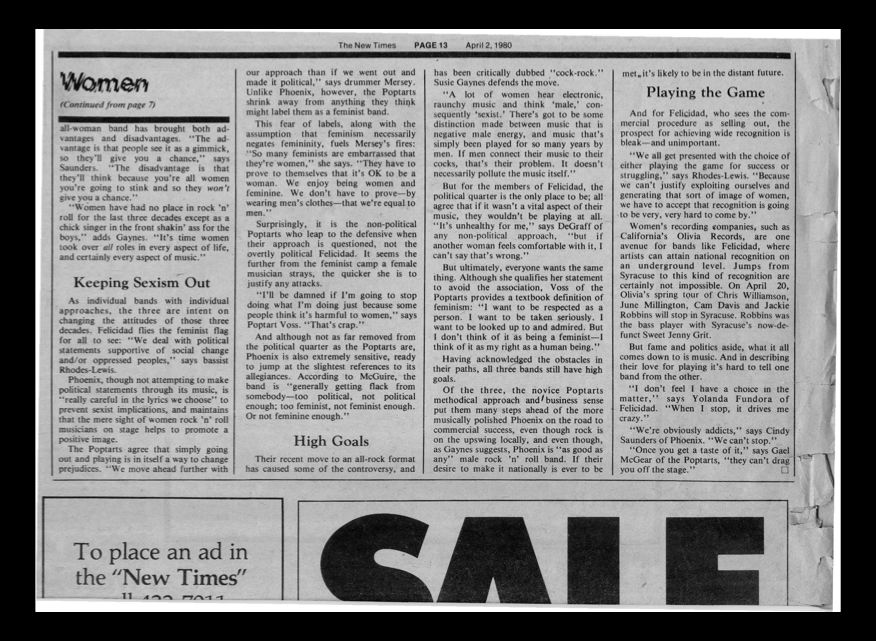 And here's a little something I found on the internet! I love the juxtaposition of our band "No Sense of Humor" with the Syracuse Women's Bowling Association and Sylish Women ad!