A Bird's-Eye View from the Silver Nightingale

Best Bird Television
The best Bird TV I've seen lately is the documentary "Flight School" on PBS' Nature series. This is one of the sweetest films ever! It tells the story of Operation Migration - a group of scientists, pilots and environmentalists who are raising laboratory-born Whooping Crane chicks and teaching them to migrate, in order to rebuild this ancient, endangered species (they've been around since the age of the dinosaurs!) and save it from extinction. The group has developed an elaborate process, using recorded whooper calls and scientists in white suits with model whooper heads on their hands, to imprint the baby birds on the scientists, who then teach them to run (following the scientists as they sprint endlessly up and down fields), and ultimately to follow the pilots in ultralight planes flying from Wisconsin to Florida. The first year, six Whooping Cranes managed to fly the whole way, over 1200 miles and seven states in 48 days; five of the six flew back entirely on their own the following spring in 10 days, and now live successfully in the wild, making the experiment a complete success. And each year the group raises a new flock. It is so inspiring to see how wonderful technology can be when it is used in service to nature, and what is especially sweet is the love these scientists express for the birds they are working with. I've watched this documentary repeatedly and found it touching, educational and inspiring each time! Watch for rebroadcasts on the Nature series or visit PBS.org for more info. You can also purchase a video copy by calling 800/336-1917. And read all about Operation Migration, their latest journey and how you can support their work at http://www.operationmigration.org/.
All-Bird TV is a fabulous, entertaining and educational series which used to air on Animal Planet channel. Hopefully one of these days they'll air it again - it's a timeless classic!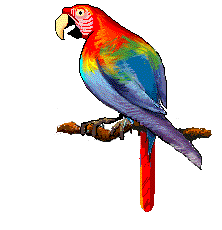 Also wonderful: The Life of Birds, a multi-part documentary series seen on PBS stations nationally. It's a sweet, educational series and the music is great!
There's a marvelous, poignant episode of Vietnam docudrama China Beach called Skylark, which prominently features this jazz classic in several places. One of the best things on TV, this 1990's series is seen now and then on the History or TV Land Channels.

There's a great bird vignette in the "Made for Each Other" episode of Miami Vice (Season One, 1985), where Switek and Zito catch Izzy breaking into a bird import business. Izzy improvises a hilarious excuse, claiming he's been hired by the owner who forgot to give him a key:
"I offered to help these winged refugees with their foreign language requirement, you know, so they could get their migration card!"
This is followed by more snappy bird banter, including Zito doing his impression of a parrot reading Izzy his Miranda Rights. Also notable in this episode: a polka dot Mack cement mixer (I know, nothing to do with birds, I just thought it was funny!)

A bird named Crackers, which Sgt. Wojciehowicz hopes will keep him company as a pet, figures prominently in the 1979 "The Bird" episode of Barney Miller, despite dying shortly after the beginning of the episode. There are lots of bad bird jokes from Sgt. Dietrich throughout the episode.

Nils-Udo's Clemson Clay Nest, part of the "Touch the Earth" video series, is a fantastic 2006 documentary detailing this Bavarian artist's beautiful, etheric, evocative nature installations, including a very large nest made from bamboo, pine and red clay with the help of Clemson University students and faculty at the South Carolina Botanical Garden. On the edge of a dense forest, this installation is the largest nest Nils-Udo has made so far - it's a form he's recreated in many environments, using a wide variety of materials. One of his goals in this work was to show a nest as a bird would see it from above. The documentary closes with an understated and artful extended time lapse sequence of the construction filmed from a fixed point. This work and many other nature-based sculptures installed at SCBG can be explored here. There's also a link to the video series on this page. A wide range of Nils-Udo's charming, magical work can be easily viewed online with a Google Images search.

More Beautiful Bird TV

Nature on PBS had a wonderful 2011 documentary called "Birds of the Gods", all about the amazing birds of New Guinea. If you want to see some fantastic feathers and unique mating rituals found nowhere else on Earth, check out this show! There's also some very interesting historical footage of host David Attenborough's earlier visits to the island.
Important Nightingale Fact
Nightingales are not native to the US and Canada! So for us stateside folks, the following item is especially important.
Note that "all England" celebrates the nightingale, which is native there and Europe.
Best Bird Radio
Living On Earth on National Public Radio aired this Historical Item on Nightingales:
Laura Knoy reports: "This month, all England is listening for a sound the nation has celebrated for more than a millennium: the nocturnal song of the nightingale. After wintering in West Africa, thousands of nightingales return to England in May to nest and breed. But disruption of the birds' habitat in the English countryside has caused their numbers to decline. So this year, the British Trust for Ornithology has launched a nationwide nightingale appeal. One of the appeal's chief fundraisers will be a recording of a duet first broadcast 75 years ago. The performance featured the famous British celloist Beatrice Harrison playing in her garden, accompanied by the trilling of a nightingale. On May 19, 1924, the late-night BBC broadcast drew more than a million listeners. It was the BBC's first live outdoor broadcast, and it was repeated each year until Ms. Harrison moved away in 1936. After that, the nightingales were broadcast solo until 1942, when a BBC engineer picked up the sound of RAF bombers bound for Germany flying overhead, and stopped transmitting so as not to tip off the Germans."
(Visit Living on Earth to hear what a nightingale sounds like, Harrison and the nightingales on "Danny Boy,"
plus the nightingales with WWII RAF bombers droning in the background.

Living on Earth has aired many other wonderful bird stories, including:
Hornbill Feather Recycling - An innovative program created by the Bronx-based Wildlife Conservation Society, whereby zoos supply feathers from captive Rhinoceros Hornbills to native dancers in Malaysia, who use them for ceremonial purposes. As a result, the Malaysians do not have to kill Hornbills just to get a few feathers, thus helping halt the decine in numbers of this rare bird.
The Ivory-billed Woodpecker - Thought extinct since the 1930's, it was recently sighted in Arkansas - or was it?
For another 500 or so bird stories, just do a search on the Living on Earth website! And see below for a story from Living on Earth about Canaries who learned to sing like Nightingales!
Also on the radio, Talk of the Nation - Science Friday does some excellent stories on birds, including an annual bird show. You can listen to all their shows online in their archives, which are searchable by date and subject. One story on the 2005 annual bird show is the afore-mentioned rediscovery of the ivory-billed woodpecker, long thought extinct! The story includes several recordings of this rare woodpecker's call. And here's a 2006 update on this story, which has become rather controversial!
And The World aired a charming segment on Birdsong in Vietnam.
My Favorite Bird Commercial
The one in which Tweety Bird claims kinship with Larry Bird! They do look an awful lot alike!
Best Bird Cartoon
Friz Freleng's "Birds Anonymous"! It can also be seen in the compilation Looney Bugs Bunny Movie.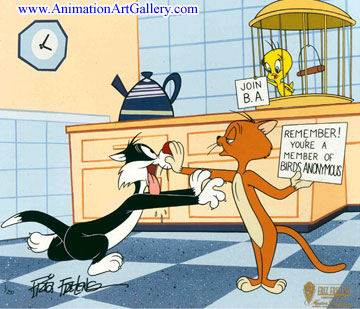 Best Bird T-shirt
I would gladly pay for a "Birds Anonymous" T-shirt, commemorating this classic cartoon. Let me know if you have one.
Other Notable Bird Cartoons
"Walky Talky Hawky" - starring spunky little chicken hawk Henery, and the charming debut of Foghorn Leghorn (a parody of the popular Senator Flaghorn character on Fred Allen's radio show)
Discover The Nightingale

Much to my surprise and delight, I recently discovered a link to my website (yes, this very website you're reading right now) on the Kennedy Center website! The Kennedy Center hosts a program called ArtsEdge, which provides teachers and anyone else who can use them with free, downloadable arts curricula on a vast variety of subjects, appropriate for children of various ages.

ArtsEdge includes several lessons on nightingales, including one called "Discover the Nightingale", which cites this very page as a resource! I was absolutely thrilled to discover this, and got in touch with the author of this lesson, Mary Beth Bauernschub, a third grade teacher and actor in Maryland, to thank her, and send her a copy of my CD and some additional bird resources I've discovered.

Check out "Discover the Nightingale", as well as the rest of the comprehensive ArtsEdge offerings, on just about any subject you can imagine.

And read on here for more fabulous bird information!
~
I see two birds in the same branch. One eats the sweet fruit, while the other looks on sadly.
The first bird wonders: in what prison does he live? The second marvels: how can he rejoice?
The Ramayana
~
My Favorite Bird Songs

Stardust (Mitchell Parish & Hoagy Carmichael)

"Beside a garden wall when stars are bright, you are in my arms,
The nightingale tells his fairy tale of paradise where roses grew...."

Another fine bird song by the great Hoagy is Baltimore Oriole.
He wrote quite a few!


Song to a Seagull (Joni Mitchell)

"Fly silly seabird
No dreams can possess you
No voices can blame you for sun on your wings
My gentle relations have names they must call me
For loving the freedom of all flying things
My dreams with the seagulls fly
Out of reach out of cry"


A Nightingale Sang in Berkeley Square
(Eric Maschwitz & Manning Sherwin)


Sightless Bird (Bobby McFerrin)

"Out here I bid all my troubles bye,
and exchange graceful lilting melodies with a sightless bird...."



Who Knows Where the Time Goes (Sandy Denny)

"Across the evening sky all the birds are leaving
but how can they know it's time for them to go
Before the winter fire I'll still be dreaming
I do not count the time...."




Somewhere Over the Rainbow (Yip Harburg & Harold Arlen)

"If happy little bluebirds fly beyond the rainbow, why oh why can't I?"


El Condor Pasa

Pigeon on a Gate Post

You'll Never Walk Alone
(Richard Rodgers & Oscar Hammerstein II)

"At the end of the storm is a golden sky, and the sweet silver song of a lark..."



Serenade to a Cuckoo (Rahsaan Roland Kirk)


La Paloma

Lullaby of Birdland (George Shearing)

Bird on a Wire (Leonard Cohen)

Jokerman (Bob Dylan)

"Jokerman dance to the nightingale's tune
Bird fly high by the light of the moon....."

The Lark Ascending (Ralph Vaughan Williams)

Rockin' Robin (who wrote this classic?!)
"Tweedly deedly dee!"

Ugly Duckling - one of my compositions! Come to a gig to hear it!

The Eagles Fly (Mindy Simmons aka The Chirp)
on her A Fine Life in the Country CD
a beautiful song about our national symbol...

The Falcon from Celebrations For a Grey Day
(Mimi and Richard Farina)

"Come all ye rovin' minstrels and together we will fly"

Thanks to Ooz who sent me this from the album liner notes:

"The hawks an' harriers of Point Lobo had a serenity & freedom
to vanish in the spectre of the Birchers who took to the Santa Lucia
on the weekends, bivouacking, practicing armed maneuvers,
an' preparing for a foreign invasion.
Goldwater was about to win the California primary
and skies were somewhat uneasy."


Footprints in the Sky
(Annie Wenz - Wandering Minstrel, Nurse and Kayak Queen)

"I'll sing to you like nightingales...lead you through the garden
Bluegreen castles, flower stars... footprints in the sky
Bells are ringing from the mountain... lips are quenched from silver fountain
Walk with me...take my hand...
I'll rock you to the Promised Land..."



Little Bird (Steve Young)

I just discovered this wonderful contemporary songwriter and hope to have the opportunity to see him perform one of these days.





Do you know of a great bird song?
Tell me about it and I'll include it in this list!



The Littlest Birds (Have the Prettiest Songs) (Be Good Tanyas)


Meadowlark (Sarah Brightman)

submitted by Tim Martin, who writes:

"I am a bird lover, and I share my life and home with two rainbow lories.

You asked people to report recorded songs with bird themes, and I know of one that I did not see listed on your site. The song is called Meadowlark and it is a beautiful song recorded by Sarah Brightman on an early, obscure album called the Ones That Got Away. The song tells the story of a tragic romance and uses the Meadowlark to relate the spirit of a young womens soaring feelings of love, and unlike other songs it carries this theme from beginning to end. It is truly a wonderful song.

Thank you for maintaining a website that elevates animals."

Thanks Tim!




Not to mention Albatross, White Bird, Blackbird, Yellow Bird, Close to You, Dog & Butterfly, Morning Has Broken, The Nightingale, On Eagle's Wings, Songbird (Fleetwood Mac or Kenny G), Wind Beneath My Wings....

The Cuckoo - A traditional tune, sung and recorded by many.... I recently heard a great new version by Devilish Merry on their CD Beauty is Everywhere.

Free Bird, Empty Sky (Ariel Kalma)

Swallow - A beautiful, traditional-sounding song written by Annabelle Chvostek and recorded by the Wailin' Jennys on their CD Firecracker.

"Oh swallow
What did you swallow?
You swoop so low
You come and you go

You flew right in from that ship on the sea
Pirate sails on the wind coming for me

You wooed me, pursued me
You hooked me, you booked me
I signed up my name
Said I'll be your game

You got me, arrow shot me
Now come connect the dot me
And if you don't want it
then free me, I will flee....."

When I Go (Dave Carter and Tracy Grammer)

"come, lonely hunter, chieftain and king,
i will fly like the falcon when i go
bear me my brother under your wing,
i will strike fell like lightning when i go
i will bellow like the thunder drum, invoke the storm of war
a twisting pillar spun of dust and blood up from the prairie floor
i will sweep the foe before me like a gale out on the snow
and the wind will long recount the story,
reverence and glory, when i go...."

Three Little Birds (Bob Marley)

"Don't worry 'bout a thing
Every little thing gonna be alright...."

Birds of Wind and Water (Laura Sue Wilansky)

yep, another one o' mine.....

Sweet Adeline (Richard Gerard)

"It is then I wonder where you are, my darling,
And if your heart to me is still the same.
For the sighing wind and nightingale a-singing
Are breathing only your own sweet name...."

Private Universe (Crowded House)

"I have all I want, is that simple enough?
a whole lot more I'm thinking of
every night about six o'clock
birds come back to the pond to talk
they talk to me -- birds to talk to me
if I go down on my knees

it feels like nothing matters
in our private universe...."

Robin's Song (The McDades)

A beautiful instrumental from their album Bloom

Little Wing (Jimi Hendrix)

One of my favorite songs in my repertoire, I love it when I hook up with a guitarist who can play this classic!

Madrigal (Smothers Brothers)

Wherein we hear a charming typical Smothers Brothers debate in which nightingales figure prominently!

It Might As Well Be Spring (Rodgers and Hammerstein)

"I'm as restless as a willow in a windstorm,
I'm as jumpy as a puppet on a string
I'd say that I had spring fever,
but I know it isn't spring
I am starry eyed and vaguely discontented,
like a nightingale without a song to sing
O why should I have spring fever, when it isn't even spring?"

Cerulean Skies (Maria Schneider)

Great long-form jazz composition inspired by birds' epic migration, and the changes they go through beforehand to prepare. Check out the Maria Schneider Orchestra performance of this piece on JazzSet, where Maria gives an in-depth introduction to the work.

The Lone Wild Bird
(Henry Richard McFadyen, arr. David N. Johnson)

This piece is near and dear to my heart, as I accompanied the Hendricks Chapel Choir on flute in Johnson's choral arrangement of this atmospheric hymn/folk song many times during my college years. I believe this was my first experience playing as a soloist with a choir, and it was very affirming - and transcendently beautiful!

Letters from a Ghost (Lara Herscovitch)

Hauntingly beautiful song about Martin Luther King...
"Gonna walk across this bridge, they'll swim, you fly
Five thousand ways to get to the other side
As the hero will tell, when you reach out your hand, to someone else, you help yourself
Three billion tears, three billion more, who's keeping score?
Here we stand, hand by hand,
Side by side, why not, I lied
Mail piles high
As the nightingale keeps bringing letters
From a ghost in a Birmingham jail"

West Virginia, My Home (Hazel Dickens)

It's been years now since I left there
And this city life's about got the best of me
I can't remember why I left so free
What I wanted to do, what I wanted to see
But I can sure remember where I come from

West Virginia, oh my home
West Virginia, where I belong
In the dead of the night, in the still and the quiet
I slip away like a bird in flight
Back to those hills, the place that I call home....


Icarus (Ralph Towner)

One of my favorite instrumental pieces of all time
to play or listen to - so uplifting! There are so many
great versions of this song, played by Ralph solo,
Ralph and Gary Burton, Paul Winter Consort and others....

Shroud for a Nightingale (Richard Harvey)

Music written by the amazing composer Richard Harvey
for a 1984 British television miniseries based on the PD James' novel of the same name, one of the Adam Dalgliesh detective series.

High Flying Bird (Billy Edd Wheeler)

Very cool song stolen from Stephen Stills by Neil Young in 1964 - it's how they first became friends - as well as being recorded by Richie Havens and many others. Neil's version with Crazy Horse appears on his 2012 album Americana.

"There's a high flyin' bird, flying way up in the sky,
And I wonder if she looks down, as she goes on by?
Well, she's flying so freely in the sky.

Lord, look at me here,
I'm rooted like a tree here,
Got those sit-down,
can't cry Oh Lord, gonna die blues."

There's a high flying bird, way up in the sky. And I wonder does she looks down as she flies on by? She's floating so free and easy in the sky. Oh look at me here. I'm just rooted like a tree here. I got them sit-down, can't-fly, oh-Lord-I'm-gonna-die blues, gonna-die blues.

Oiseaux tristes (Sad Birds) - A beautiful piece by Maurice Ravel, the Second Movement of five from the suite for solo piano Miroirs (Reflections). Ravel wrote this suite in tribute to a group of young innovative artists he belonged to called Les Apaches, with each movement dedicated to a different artist.
Another Fine Bird Composition
The English Nightengale is a soprano recorder composition written by Jacob van Eyck in 1647. Jacob van Eyck was a most remarkable figure in Dutch musical life during the 17th century. A nobleman, he was born blind, and was widely known as a carillonneur, a leading expert in the field of bell casting and tuning, and admired as a virtuoso recorder player. He was paid by the Amsterdam town council to play in public spaces to entertain the citizens. Many of his works are in the form of theme and variations. - this information courtesy of Philip Gelb
Birds that Influenced Me as a Child

Birds figure prominently in a number of Oscar Wilde's Fairy Tales
(which, upon re-reading them as an adult, I think would more properly be called Morality Tales).

Most notable Wilde birds:
The Nightingale and the Rose - "So the Nightingale sang to the Oak-tree, and her voice was like water bubbling from a silver jar."

The Happy Prince - starring a jewelled statue and a self-sacrificing little sparrow - "He was in love with the most beautiful Reed. He had met her early in the spring as he was flying down the river after a big yellow moth, and had been so attracted by her slender waist that he had stopped to talk to her. 'Shall I love you?' said the Swallow, who liked to come to the point at once, and the Reed made him a low bow. So he flew round and round her, touching the water with his wings, and making silver ripples. This was his courtship, and it lasted all through the summer. 'It is a ridiculous attachment,' twittered the other Swallows; 'she has no money, and far too many relations'; and indeed the river was quite full of Reeds."

The Selfish Giant - "One morning the Giant was lying awake in bed when he heard some lovely music. It sounded so sweet to his ears that he thought it must be the King's musicians passing by. It was really only a little linnet singing outside his window, but it was so long since he had heard a bird sing in his garden that it seemed to him to be the most beautiful music in the world."

The Devoted Friend - " 'Upon my word,' said the Miller, 'you are very lazy.' ... 'I am very sorry,' said little Hans, rubbing his eyes and pulling off his nightcap, 'but I was so tired that I thought I would lie in bed for a little time, and listen to the birds singing. Do you know that I always work better after hearing the birds sing?'"

Another bird story that had a big impact on me as a child was this one by Hans Christian Anderson:
The Emperor and the Nightingale - "From all corners of the world travelers came and marveled at the Emperor's city and the palace and garden too. But when they heard the nightingale they said, 'This is more wonderful than all the rest.' The travelers talked about it when they got home, and scholars wrote many books about the city, the palace and the garden, but they always ended by saying that the most beautiful thing was the song of the nightingale."

Later in the story....
"Suddenly the loveliest of songs rang out. It was the little nightingale, sitting on a branch outside the window. It had heard of the Emperor's sickness and so had come to sing him a song of comfort and hope. And, as it sang, the ghostly forms grew paler and paler, the blood flowed more and more strongly through the Emperor's weak body and even Death himself listened and said, 'Go on, little nightingale, go on.'

'Yes, if you will give me that fine golden sword, that rich banner and the Emperor's crown!' And Death gave up these treasures for a song.

The nightingale sang of the quiet churchyard where white roses grow, where the elderberry tree smells sweet and the grass is damp with the tears of those who are left behind. Then Death was filled with longing for his garden and drifted out through the window like a cold white mist.

'Thank you, thank you,' said the Emperor. 'You heavenly little bird, I know who you are. I drove you from my kingdom and yet you've sung away these evil visions from my heart. How shall I reward you?'

'You have rewarded me,' said the nightingale, 'I drew tears from your eyes the first time I sang to you and I shall never forget it.'"


As a child, I was also (and still am) a big fan of Tweety and Sylvester cartoons.
Best Bird Coffee
Songbird Coffee is a delicious, organic coffee grown in shady habitats which support migrating songbirds.

Most coffee is grown in full sun plantations which are detrimental to bird life.
Songbird Coffee is produced by Thanksgiving Coffee Company in partnership with, and helps fund
the American Birding Association, a nonprofit devoted to bird preservation, identification and other bird activities.
Other Organizations that Help Birds
To learn more about birds, visit:

Music has wings, It moves upon the wings of intuition and thought.
Sun Ra
Poems about Birds
There are too many to mention them all! A few of the more noteworthy:

I particularly like The Woodman and the Nightingale by Shelley -

"...Like clouds above the flower from which they rose,
The singing of that happy nightingale
In this sweet forest, from the golden close

Of evening till the star of dawn may fail,
Was interfused upon the silentness;
The folded foses and the violets pale

Heard her within their slumbers...

...and every form
That worshipped in the temple of the night

Was awed into delight, and by the charm
Girt as with an interminable zone,
"Whilst that sweet bird, whose music was a storm

Of sound, shook forth the dull oblivion
Out of their dreams; harmony became love
In every soul but one....

The world is full of Woodmen who expel
Love's gentle Dryads from the haunts of life,
And vex the nightingales in every dell."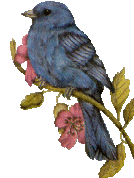 To A Skylark also by Shelley
"Teach us, Sprite or Bird,
What sweet thoughts are thine:
I have never heard
Praise of love or wine
That panted forth a flood of rapture so divine."
Shelley also makes numerous poignant bird references in "Orpheus", "Adonais" and many other works.
My Thesaurus quotes Shelley's description of the poet as "a nightingale who sits in darkness and sings to cheer its own solitude with sweet sounds."
Many other poets write about and/or refer to nightingales, including Browning, Coleridge, Milton and Keats, who wrote the famous "Ode to a Nightingale."

Richard Ryal has also composed several poems about a nightingale - namely me!
And Richard has now been designated Official Poet Laureate of The Silver Nightingale!


See my Poetry Page, composed of poems by and about yours truly!
Of course, there are many, many books with birds as theme, title, metaphor or subject. The list is much too long for this page, but here are a few noteworthy bird-related tomes:
Bird by Bird - Anne Lamott
The White Peacock - D.H. Lawrence
Song of the Bird - Anthony De Mello

"It's so quiet at this time of the morning, isn't it?"
"You wait till spring, then it's a racket out here."
I must have looked confused because he explained, "The dawn chorus. Not sure why the birds like this street particularly, but for some reason best known to themselves they do."
"I've never really understood what the dawn chorus was about actually." Keeping the conversation going to humor him or to avoid my thoughts?
"Their songs are to attract a mate and define territories," replied Amias. "A shame that humans can't take the musical approach to that, isn't it?"
"Yes."
"Do you know they have an order?" he asked."First blackbirds, then robins, wrens, chaffinches, warblers, song thrushes. There used to be a nightingale, too."
As he told me about the dawn chorus, I knew that I would find the person who had murdered you.
"Did you know that a single nightingale can sing up to 300 love songs?"
That was my singled-minded, focused destination; there was no more time for the detour of a guilt trip.
"A musician slowed down the skylark's song and found it's close to Beethoven's Fifth Symphony."
I owed it to you, even more than before, to win you some kind of justice.
As Amias continued telling me about the musical miracles within the dawn chorus, I wondered if he knew how comforting I found it, and thought that he probably did. He was letting me think, but not on my own, and was giving me a soothing score to bleak emotion. In the darkness I tried to hear a bird singing, but there was nothing. And in the silence and the dark it was hard to imagine a bright spring dawn filled with birdsong.
- From Sister, by Rosamund Lupton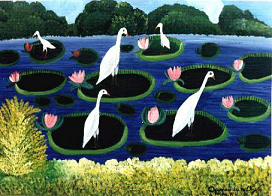 Delicious autumn! My very soul is wedded to it, and if I were a bird I would fly about the earth seeking successive autumns.
George Eliot

Best Nightingale Reference on a TV Show
Nightingale's Body Bank on one of the best TV shows ever, Max Headroom. Florence Nightingale, who ran this appealingly distasteful new and used body parts dealership, was played by the irrepressible Billie Bird!

Mistaken Nightingale Reference on a TV Show

I recently saw an old episode of Columbo, starring the fabulous Ruth Gordon. In it, Ruth's character (the murderer in this particular story) mentions hearing a nightingale in her garden and how lovely it is. However, since the show is set in North America, there could not have been a nightingale singing in her garden. (see Important Nightingale Fact at top of page!)
I wish we had all been born birds instead.
Kurt Vonnegut, Hocus Pocus
Best Bird Acts
Laura Sue, the Silver Nightingale! (she said modestly)

Silver Nightingale and the Starlings! (an occasional rock band)

Jenny Lind - known as the Swedish Nightingale

The Lark Quartet - a fabulous all-women classical string quartet

The Sensational Nightingales - sensational gospel quintet (1940's - 1990's!) and inspiration for a great Billy Collins poem: "Sunday Morning with the Sensational Nightingales"

Robyn Fear - well-known South Florida singer/songwriter and former member of Laura and the Legwarmers during my Syracuse days
The Eagles - whose legendary Hotel California album was engineered by the talented Ed Mashal of Alle Audio, who also mastered my Sarabande CD! The Eagles also have a song called "Nightingale"!!
Best Bird Choir
The Zamir Chorale - Zamir is Hebrew for Nightingale! The Zamir Chorale was founded in Lodz, Poland in 1899 to express Jewish culture through music, and employed the revolutionary (for its time) practice of having men and women sing together. After decades of artistic and commercial success leading to a full production of La Traviata in Yiddish in 1939, most members of the Zamir Chorale were killed in the Nazi concentration camps. Only a few lived through World War II to tell the story of this pioneering group. Thirty years later, the Zamir Chorale of Boston was founded to carry on the legacy of this important choir, and their work and tour to Poland in 1999 is documented in the 2000 film Zamir: Jewish Voices Return to Poland, which has aired extensively on PBS stations and can also be found on VHS and the CD, The Songs Live On.
Birds in the Movies
The Lost Bird Project - A beautiful, moving film documenting sculptor Todd McGrain's work memorializing five North American bird species driven to extinction in modern times, and chronicling his journeys to install his sculptures in the place where each bird last lived. Another goal of his work is to foster awareness of current endangered species, and help prevent additional species extinctions. There's a lot of fascinating historical information in this film about these lost birds, including passages from the book "Hope is the Thing With Feathers: A Personal Chronicle of Vanished Birds", read by its author Christopher Cokinos.
Okay, this actually doesn't have much to do with birds, but it's a cool organization with a bird-related name:
WITASWAN - Women In The Audiences Supporting Women Artists Now!
WITASWAN works to expand opportunities for women filmmakers and help them break through the Celluloid Ceiling. They are also selling some very beautiful marcasite swan pins!
The Birds and the Bees? How about the butterflies and the flowers?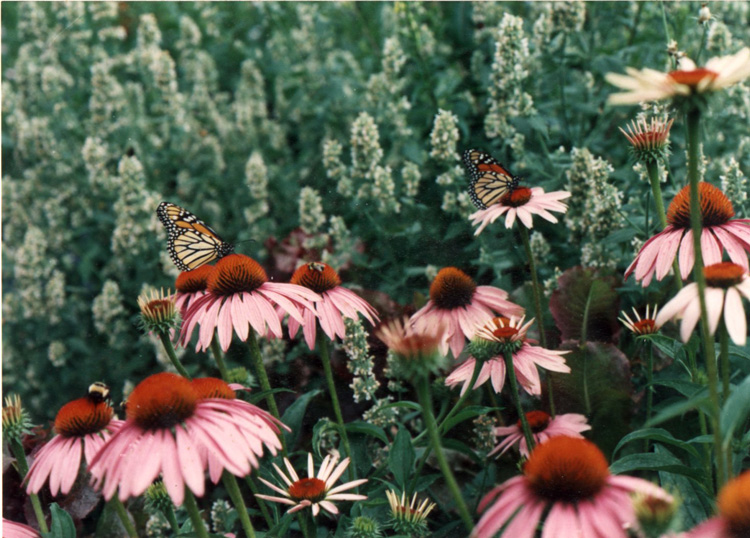 This photo of wild echinacea was taken by my friend Scott Luscombe on his beautiful land in Truxton, NY, also home of the world's sweetest Strawberry Festival


World's Oldest Beaked Bird
This just in!

Oldest Fossil of Beaked Bird Found By RICK CALLAHAN © The Associated Press
(June 16) - Paleontologists have found a fossil of the oldest known bird species with a beak - an upturned bill resembling Woody Woodpecker's. The 130 million-year-old, crow-sized Confuciusornis dui was discovered last year in ancient lake sediment in China, so exquisitely preserved that impressions of its feathers are clearly visible. Previously, the earliest known toothless, beaked bird dated from about 70 million years ago.
The skull of the Confuciusornis dui fascinated - and amused - scientists. The beak resembles that of pesky Woody Woodpecker. The creature's beak was an advanced trait for its time, coming only 10 million to 15 million years after the first known bird - the toothy, reptile-like Archaeopteryx - during the Jurassic Period. The Archaeopteryx had a reptilian snout rather than a beak of horn-like material. The back end of the Confuciusornis dui's skull is primitive, with two openings behind the eyes that are a throwback to dinosaurs.
''What you've got is a modern car engine hood on the rear end of a Model T,'' said Larry D. Martin, curator of vertebrate paleontology at the University of Kansas' Museum of Natural History. He helped analyze the fossil. This combination of primitive and advanced traits suggests that early bird evolution was more complex than previously thought and included many species that didn't succeed.
''This is showing a diversity we didn't know about before. It's not like you have this sort of straight-line evolution from one to another and each one getting more specialized,'' said Storrs L. Olson, curator of birds at the National Museum of Natural History at the Smithsonian Institution. Sankar Chatterjee, a professor of geology at Texas Tech University in Lubbock, agreed: ''The story is much more complex. Evolution is not really like a ladder. It's more like a bush.'' The bird is described in Thursday's issue of the journal Nature. It was analyzed by American scientists and a team from the Chinese Academy of Sciences.
Scientists believe the bird flew well and took off by scaling trees and jumping.
Confuciusornis (kahn-FYOO-shus-OR-nis) dui is the smallest species found to date of the order named for the Chinese philosopher. The birds became extinct 120 million years ago and probably didn't lead to modern birds. Hundreds of specimens of a larger species of Confuciusornis have also been found at the site, but all lacked intact skulls. Researchers believe the birds fell victim to volcanic eruptions that preserved their remains.
Copyright 1999 The Associated Press
Hart Seely adds, "This is news? Didn't any of these idiots ever notice Fred Flintstone's record player?"
Canaries Learn to Sing Like Nightingales....

This is from the story "A Brand New Bird" on the Oct. 17, 2003 broadcast of NPR show Living on Earth:

Back in the 1920s, Hans Duncker, an amateur bird breeder was walking down the streets of Bremen, Germany when he heard something that stopped him in his tracks. It was a nightingale song, but it was the wrong place and the wrong season for a nightingale to be singing. Turns out a canary breeder, Carl Reich, was exposing his birds to nightingale songs and eventually, these canaries had started singing like nightingales.

The idea started Herr Duncker thinking, and he set out with Carl Reich to try and alter another aspect of the canary - its color. By hybridizing, or breeding the canary with another species of bird, in this case, the red siskin, they hoped to create the world's first red canary.

For the rest of this strange and interesting story on bird breeding, and how two amateur scientists created a whole new bird, visit Living On Earth.

There's also a good story in the same show about Ducks Unlimited, an organization which preserves and restores wetlands and associated habitat for North America's water birds. These habitats also benefit other wildlife as well as us humans. It was while perusing the Ducks Unlimited website that I first had the idea for the melody of my composition "Birds of Wind and Water".
Can't Live Without 'Em
CBS Sports admitted dubbing recorded bird sounds into the background of televised golf tournaments after bird enthusiasts watching the P.G.A. Championship on television said they thought some of the bird calls they were hearing belonged to birds that were not normally found in Louisville, Kentucky in August. The network explained it was experimenting with using a compact disc of bird sounds to provide ambient sound but promised not to do it again, although a source at CBS told the New York Times technicians still scatter birdseed around microphones on the ground to attract genuine ambience. - as seen in Comic Relief, one of my favorite magazines for fun and enlightened political analysis.
The Hummingbird Report
from Ken Page
5/12/2001 - The other day I was telling Mary that she needed to treat me more like a hummingbird - be more gentle and easy with me. For anyone who knows me well, I'm a controlling Virgo male that thinks he knows everything. The truth is I do! but I forgot most of it.
Over the next few days, I saw hummingbirds in our backyard in Mountain Ranch, California for the first time. We bought a couple of hummingbird feeders and hung them in view of our kitchen windows. Guess what? By the next day there was a hummer feeding frenzy - fifteen birds feeding at a six slot feeder. It looked like JFK Airport in New York. They were living it up, so we bought two more feeders, and now all four fill up with hummingbirds, especially in the morning and at dusk when the hummers do a mass feed before bed time at sundown. There must be fifty little dive bombers out there at once - a convention of red heads and green heads. It looks like hummingbird Halloween.
Hummers are very territorial and fearless. They've been known to attack hawks. Big hearts, big attitude, small package. They live about three years and travel 2200 plus miles in their migrations. No wonder they are hungry! I just hope there is not a hummingbird tour company selling tickets to my backyard! When we refill the feeders they "whirl" their wings at us and get right in our faces to complain. We've fallen in love with them and are their slaves - we keep those feeders filled!
I was out on the porch one day and a little male flew up to me and got about one foot from my nose sizing me up. We connected and I informed him that I was NOT going to drink from his feeder, and then he let me pass. I love to have clarity with the beings around me!
We now feed about two gallons of sugar water a day and are blessed by hummer grace. I must have been a hummingbird in a past life - or wish I had been.
8/14/2001 - I've shared with you in the past that Mary and I feed a lot of hummingbirds - maybe as many as 200, it's hard to count them! We believe most of them are Anna's Hummingbirds (Calypte anna), and they eat on the average of sixty times a day. They fuel up on nectar - or in our case, sugar water - and eat soft bodied insects. First thing in the morning and at dusk it's a feeding frenzy and a joy to watch. Outside of our kitchen windows, we have four 92 ounce feeders, each with eight feeding stations, and the hummingbirds are lined up at the feeders, buzzing through the air, and filling the trees.
The other day, some Rufous Hummingbirds (Selasphorus rufus) joined our group. Now, the Anna's seem to share pretty well, but the Rufous are what you would call "bad a__ hummingbirds." They are very territorial. One day, one of the males decided that a particular feeder was his. He sat on the wires on top of the feeder for most of the day and chased away all the other birds. This diligence took enormous time and energy. He could never rest as he had to constantly battle off the other birds who came to feed. He barely had time to eat himself - he was going to protect his feeder - even if it killed him.
One morning, I sat at my kitchen table with email spread all around me, and I watched this Rufous chase away intruder after intruder. He did this for hours. I thought about interfering, but realized that another Rufous would just come along.
When I reflect on my life I realize that I've known many a "Rufous" - those that wanted to control everything and be powerful. They, too, were left alone with no friends and no one to share their dinners with.
9/4/2001 - In our last newsletter we talked about the hummingbird colony we have on our land and the aggressive behavior of the Rufous hummingbirds in particular.
The following was shared by one of our readers: "Recently, while making observations similar to yours, a friend whose husband is a naturalist and heads up the nearby Mountain Park Environmental Center told me the following. 'The JOB of the Rufous is to bother the other species of hummers so much that they are forced to leave and travel south so that they are not caught here in a too-cold winter.' So what appears to us as 'greed' and 'unfriendliness' serves a very specific purpose in Nature's blueprint! In other words, the Rufous is a Servant-bird!!!"
After reading this I realized that my metaphysical path was to help myself and others find their truth. So it seems that I have been a Rufous most of my life. Mother Nature is the greatest teacher.
10/13/2001 - The hummingbirds are migrating! There are only a few left and Mary's feeding ritual has slowed down. We don't know yet if any will stay over the winter - sometimes the Anna's will not migrate. We'll see. It gets very cold in the mountains.
~
Watching a bird makes me feel good. You know that if I were reincarnated, I'd want to come back a buzzard.
Nothing hates him or envies him or wants him or needs him. He is never bothered or in danger. And he can eat anything.
William Faulkner
~
The Hills are Alive with the Sounds of Cell Phones....
AP - 12 June 02:25 PM - Singapore Time
CANBERRA -- The electronic tweeting of mobile phones is becoming so widespread in Australia, some birds are mimicking the sound as part of their mating and territorial songs, an expert said on Tuesday.
Australia has six so-called mimic birds, which commonly imitate sounds in nature, particularly other bird calls, as part of their mating and territorial displays.
With one of the highest rates of mobile phones per head of population in the world, common Australian mimic birds such as the bower birds and lyre birds are increasingly often hearing the ringing of mobile phones in rural areas, according to Queensland Museum bird expert, Mr Greg Czechura.
'It's a phenomenon associated with things like picnic grounds and national parks where bower birds live next to increasing urbanisation and rural development,' Mr Czechura told Australian Broadcasting Corp radio.
'It's the males that are largely doing it, it means there is a male that is up to date, on the ball and has the latest sounds,' he said.
For Australia's lyre bird, considered the world's greatest mimic, a mobile phone ring is just the latest in a bizarre medley that bird experts have recorded including imitations of the click and whir of cameras, the buzz of chain saws and even the roar of motorcycles, Mr. Czechura added.
- as heard on the fabulous NPR program Wait, Wait Don't Tell Me -
And for the Birds that need to use Pay Phones....
Photos and details about a gang of birds stealing quarters from a carwash coin machine! Read all about it!
I do not know which to prefer,
The beauty of inflections
Or the beauty of innuendoes,
The blackbird whistling
Or just after.
Wallace Stevens
Birds in Space
It has come to my attention that there is a High Speed Cruiser by the name of Nightingale, with the Starfleet Registry designation NCC-76320 on Star Trek - The Next Generation! For a list of tons, literally thousands of United Federation of Planets and Starfleet Starships, complete with detailed schematics of each ship, check out this way cool Starship Schematic Database! This comprehensive compendium was compiled by Jim Stevens. Holy Toledo! Some people really spend a lot of time on this stuff! (Just wait till I get my Stargate Episode Log up on my website!)
Tyrannosaurus Dux?
Real live dinosaurs are taking up residence at Miami Metrozoo's Family Aviary Wings of Asia. The story is that Tyrannosaurus rex is a relative of the tiny Mandarin duck! Miami Metrozoo's Wings of Asia is the only known zoo exhibit in the world to explain this link in such a comprehensive educational and dramatic way. More than 300 exotic, rare and endangered Asian birds representing over 70 species will be residing in the largest open air Asian aviary in the Western Hemisphere.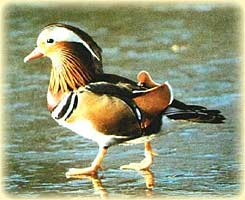 Rent a Duck!
People with nearly limitless time and patience can train a duck to run a race. Avoca, Nebraska's annual Quack-Off Races are like the trained duck Olympics. Sunny and 44 to watch trained ducks compete, or race your own trained duck. Don't have a trained duck? Rent one for $5. Winning ducks are given five minutes to flap around and quack and basically act like normal, untrained ducks. (This item courtesy of Weekend America).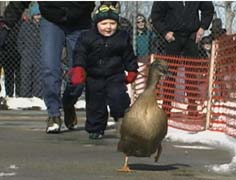 Where Do Birds Go During Hurricanes?
This question has lingered in my mind for quite a while now, so I posed it in my December 2005 Newsletter, and Melanie Rieback sent me the fabulous photo below - oh how I laughed! This is clearly one determined, yet perhaps somewhat traumatized bird! I LOVE this photo!

Sunday, Sept. 5, 2004, near Palm Bay, FL, after Hurricane Frances.
(Staff Photo/Robert Duyos) © 2005, South Florida Sun-Sentinel
Then I started doing some research, and found this awesome compendium of information on Birderblog, compiled by birder Laura Erickson. More discussion of this topic, including links to a number of additional interesting resources, can be found in this entry on the Birder's World forum. Check out Birds As Art, for some beautiful photos of birds taken by Arthur Morris around Sanibel Island, where he took refuge during Hurricane Jeanne. I'll add more info on this subject as I find it.
If I had to choose, I would rather have birds than airplanes.
Charles Lindbergh

Best Reframing of Unpalatable Bird Idiom!
Swami Beyondananda has provided an excellent reframing of the old metaphor:
Kill two birds with one stone

Instead, Swami says:
Feed two birds with one scone.
I love that and will be using it henceforth!

Some more interesting reframing ideas can be found at TickleBugs.
The Color of Birds

"The White Peacock is frequently mistaken for an albino, but it is a colour variety of Indian Peacock." For more info on all kinds and colors of peacocks, check out Wikipedia.
Best Bird Law Firm!
By chance, I found this venerable international law firm on the internet. Founded in London in 1846, they now have 14 offices throughout Europe and Asia: Bird & Bird
Best Bird Competition
The Bognor Birdman - An annual international contest of human-powered flight held in Bognor Regis, West Sussex, England. In the Bognor, people leap from a pier attired in a variety of costumes and contraptions, competing for £25,000 to see who can fly the farthest.
A Bird-Day Note - 2007
happy birthday! we filled our bird feeder yesterday in your honor... and were rewarded today with carolina chickadees, some sort of nuthatch, a tufted titmouse (very cute), maybe a sparrow but it would sit still long enough for us to get a good look. Hope your day is filled with as many wonderful things......... Christine & Aidan, Friction Farm

I planted some bird seed. A bird came up. Now I don't know what to feed it.

Steven Wright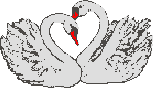 Being a country boy, I don't share many city-dweller's loathing for pigeons, I'm on the pigeons' side. So far as I'm concerned, the birds got here first, and they can eat and nest and poo where they like. Nobody asked humans to build cities beneath them.
Michael Stewart, artist
The Nightingales of Baghdad
"Almost everywhere in Baghdad, there are the sounds of helicopters and sirens. But Ghani seems not to notice them, hearing only the nightingales that he missed while he was away. Birds, he said, don't sing in his adopted homeland. If they do, he doesn't hear them.
'In Baghdad we have gardens – they are beautiful birds,' he said."
From a radio story by Jane Arraf on The World about the December 2010 return of sculptor Mohammad Ghani, one of Iraq's most famous living artists, to his beloved home city of Baghdad. You can read, listen to and download the whole piece here.
Best Bird Nickname
The founder of Baha'i, Bahá'u'lláh, is also known as "The Nightingale of Paradise".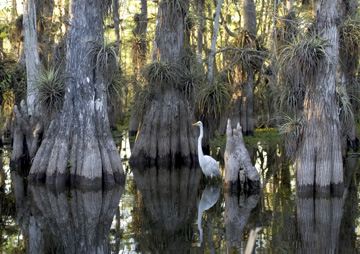 A local resident goes for a stroll in her Everglades neighborhood.
Best Bird Joke
Why do birds fly south for the winter?
It's too far to walk.
When Birds Go Wild
My Limpkin Out Shrieks Your Mockingbird by Decibels
From Linda Hamburger: I'm way off topic but inspired by today's front page Sun Sentinel story on loud bird love - Is there something in the Florida water that makes our birds violent and abusive toward people?
The Limpkin in my backyard off the Powerline & 18th Canal put one woman in the ER from exhaustion. The nonstop screech goes for about 1 month each year, with no pause. Way louder than this video shows.
Other names for the Limpkin include "wailing bird," "crying bird," and "crazy widow," for just a smidge of an idea of how loud this guy gets.
The community where he roosts is in my backyard in Deer Creek just east of Powerline on the Boca/Deerfield Canal. I think the bird is an alien from outer space disguised in feathers to see what torture methods work best before enslaving the whole earthling race.
More Bird Info?
Got some great bird fact, figure, fable or factoid? Let me know and I will post it here with a credit to you!